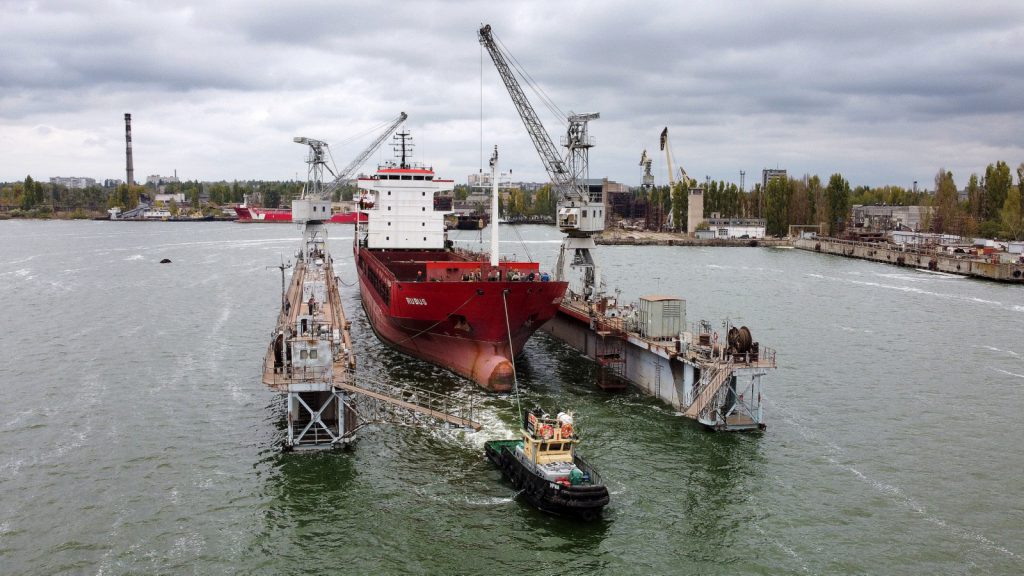 Dry cargo vessel RUBUS enters Shipyard Ocean, all repair work is planned to be done in a 30 days.
Monday, November 2, Ocean's floating dock accommodates dry cargo vessel RUBUS for repair.
Ocean competed with five other ship repair yards for this contract.
The final decision of the owner was made thanks to the Ocean's repair infrastructure that allows to do the work in the shortest framework of time while optimizing repair budget.
Thus Shipyard's Ocean floating dock allows you to take on repair vessels with the length up to 140m and 20m width, roll out them from the dock on the berth. With the help of crane equipment (80-ton cranes) it is possible to remove hatch covers and repair them on the slipway which simplifies the renovation technology.
According to the renovation plan the next works are to be done: furbishing, survey of defects, repair and painting of the plating, ballast tank and hull constructions, restoration of sea valves and protectors, repair of rudder device and stern tube, ground tacking repair, main engine system, water pumps, pipelines, electric parts, hatches etc.
The renovation will take 30 days which was one of the main conditions of the customer during the contract signing.
The RUBUS vessel is intended for transportation of general cargoes. Built in 1992. General characteristics:
Length, m – 107.98
Width, m – 16.40
Precipitation, m – 6,373
Deadweight, t – 5930.90
Gross capacity, t – 3958
Board height, m – 7.85
Number of holds – 2
The dimensions of the hold №1, m – 38.80×13.30×8.30
The dimensions of the hold №2, m – 26.80х13.30х8.30
The total volume of holds, cubic meters – 2360.69
Main engine, kW – 3630, Man B&M