Construction of ships is carried out at two production lines – big-tonnage and medium-tonnage ones.
Big-tonnage production line includes 54000 sq.m assembly-welding workshop, dry dock (355х60х17m) equipped with two gantry cranes of 320 tons lifting capacity each and 4 bridge cranes (of 80 tons each) and 420 m length outfitting quay equipped with two bridge cranes of 32 tons lifting capacity each.
Medium-tonnage production line consists of assembly-welding workshop, boathouse (144х16m), two open slipways, floating dock and 255 m length quay №2 (with two cranes of 10 and 15 tons lifting capacity). Floating dock PD-35 with lifting capacity up to 6000 tons is used for launching vessels and ship repair works. It is equipped with two cranes of 5 tons lifting capacity each and automatic tilting detection system. Maximum size of the vessel which can be accommodated at the floating dock is 150 m length and 22 m width.
The dry dock is the largest in Ukraine and is one of the largest in Europe (355 m length, 60 m width and 17,1 m depth); it allows to construct Panamax, Aframax and Suez-Max vessels (deadweight up to 300,000 tons, length up to 320 m, width up to 50 m).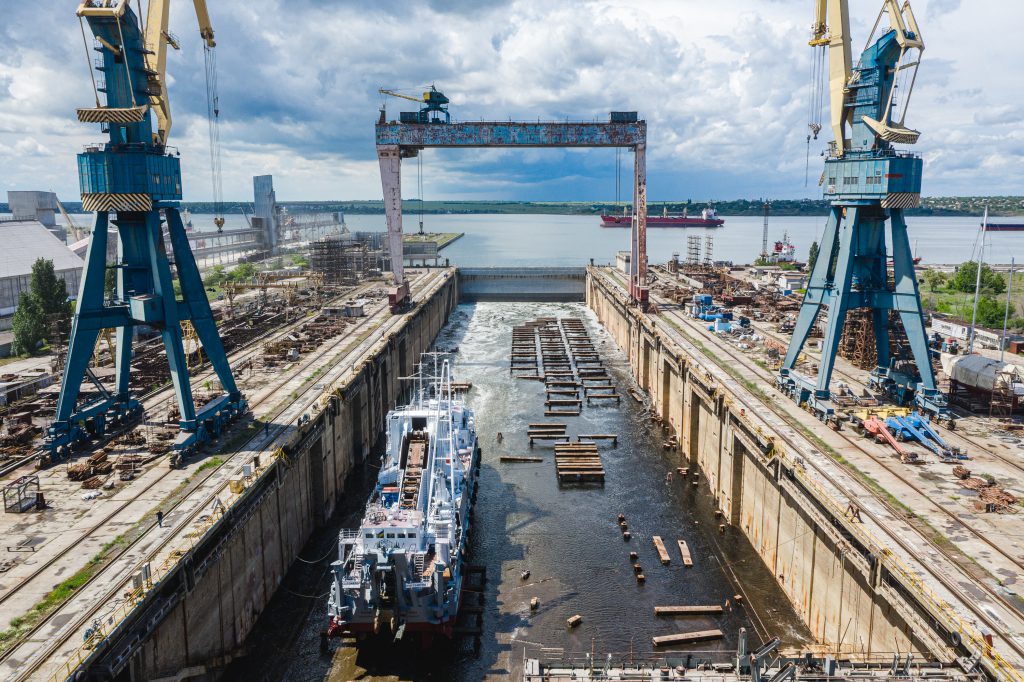 The advantage of the Ocean dry dock is a unique pre-dock area of more than 35,000 sq.m. which allows to carry out intermediate works quickly and qualitatively at the stage of sections assembly and consolidation of sections for further joining of sections in the dry dock.
There is also an option to install a dry dock shutter dividing the dock into flooded and dry parts in various proportions (4 combinations are available). This allows to work at two or more vessels simultaneously if construction and repair cycles differ.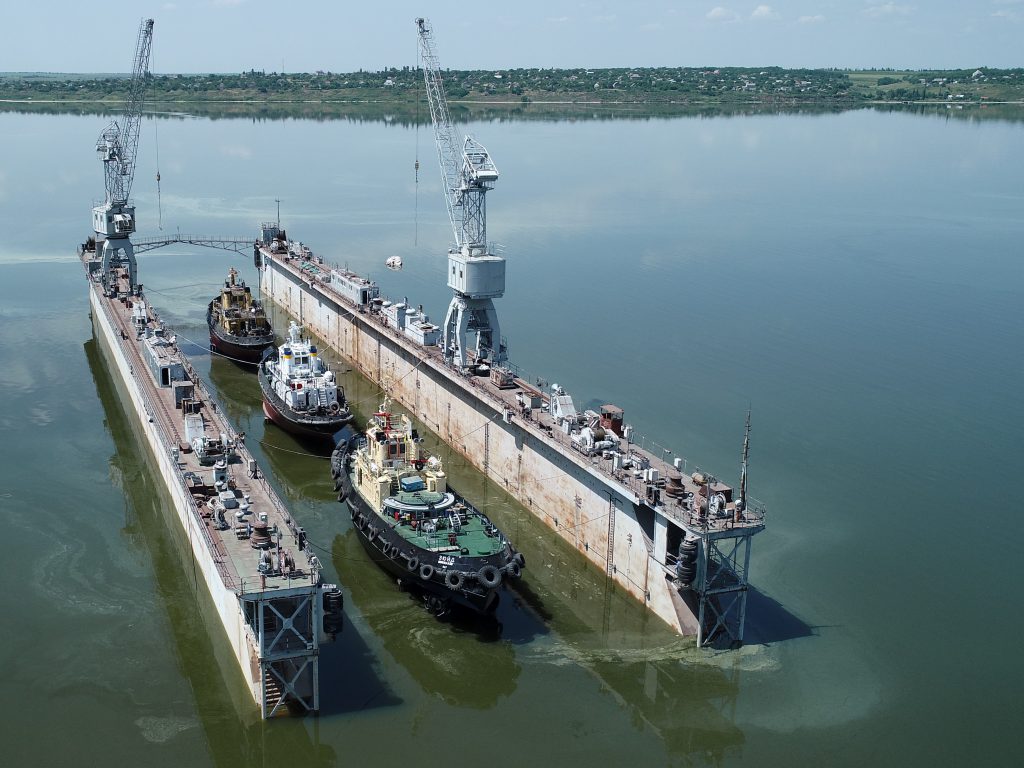 Boathouse can also be used for laying and building ships up to 5,500 tonnes.
The dry dock, boathouse and floating dock are in full working condition and are staffed by professional teams of shipbuilders of all necessary specialties.
Since 1951, more than 400 vessels of various types have been built at the Ocean facilities, and nowadays the shipyard is restoring the potential to revive a full-scale industrial shipbuilding.
Technologies and equipment meet the modern requirements. Production of ships hulls is carried out by integral block method with shortening of slipway and dock periods for 2-3 months. Sections and blocks are outfitted by maximum with the pipe-lines, electrical and hull equipment and then are painted without the last layer until they are assembled in blocks (or hull).
The range of products is aimed at the construction of such vessels as container ships, ice class tugboats, chemical tankers, dry cargo, inland water tankers, marine tugs, multi-purpose cargo vessels, multi-purpose cargo vessels for heavy cargo transportation, multifunctional pontoons, rescue and salvage ships and boats, etc.