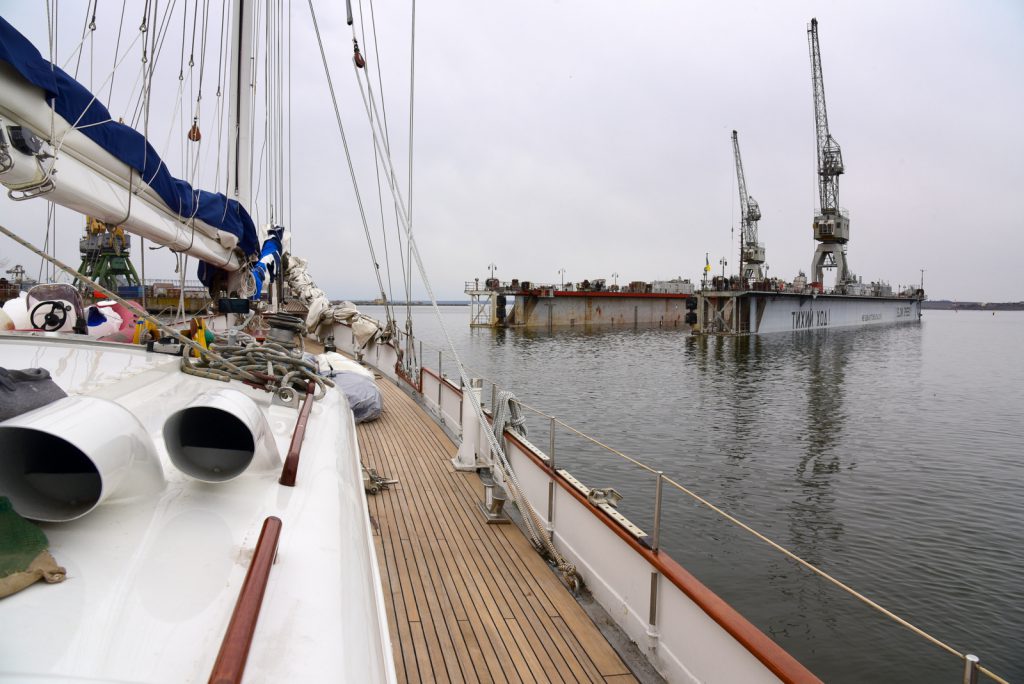 March 22, Expedition yacht Atalante came to shipyard Ocean for docking works. The ship will be expected, cleaned, restored and painted on the outer hull before the new long voyage. As well as repair of screw-stern device, bottom-out valves etc are to be done.
The yacht was built in 1961 by order of the Belgian Government at the shipyard Beliard, Crighton et Cie in Ostend city for scientific research in Arctic. 15 years Atalante worked in the North Seas.
In 1961 the Swede Peterson, who lived in Monaco got ownership of the ship. This enthusiast founded the Monaco Maritime Museum, which still houses the ship's log and some attributes of Atalante.
Today Atalante carries the sailing equipment of Bermudian ketch. The yacht has a steel hull and developed steel bulkhead with decks. Built according to the rules of the classification society Lloyd's Register. The yacht has 8 cabins to accommodate 12 people, including 4 crew members.
General characteristics of the yacht ATALANTE:
Length, m – 30.27
Length along the waterline, m – 26.50
Beam, m – 6.05
Water draft, m – 2.40
Displacement, t – 10
Category of seaworthiness – A
Main engine, hp – 1 x 180, Sulzer
Fuel tank, l – 11700
Water tank, l – 3200