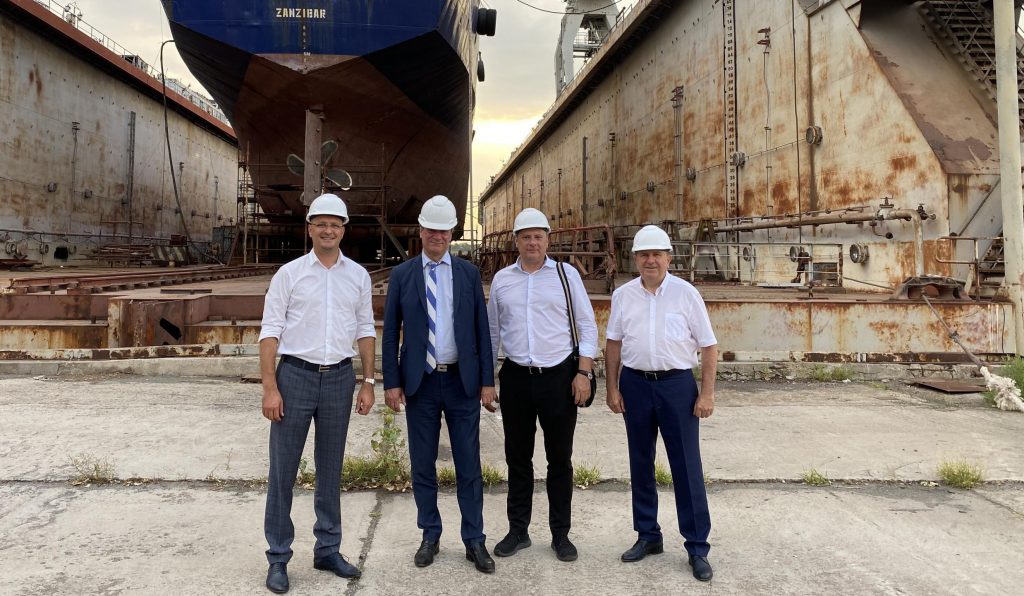 On 21 of August Vice Prime Minister of Ukraine, Minister of Strategic Industries, Oleh Uruskyi visited the Ocean shipyard.
His visit was organized in the frame of Minister's acquaintance with the enterprises, which work for military-industrial complex. During the visit owners of the shipyard – Vasyl and Mykola Kapatsyna personally gave a tour around and showed the possibilities of the enterprise for military ships' building and repair.
Also new modern lines of equipment aimed for metalworking and hull installation.
Vise Prime Minister was presented with the logistics capabilities of the enterprise and team's readiness to work with high level secrecy orders.
"We, as the owners of the Ocean shipyard and patriots of Ukraine, realize the importance of orders for defense-industrial complex of our country, and ready to give the priority for those ones" – commented V.Kapatsyna.
Also owners shared their plans regarding ship repair capacity development on the shipyard Ocean and showed modernized vessel for major Turkish shipping forwarder (carrier).
Since 2019, the yard not only fulfills shipbuilding and ship repair orders but executes steel constructions for infrastructure projects. Among them are the bridge on Volodymyrs'ka hill and Shulyavs'kyi crossover in Kyiv.
By personal request of the President of Ukraine V. Zelens'kyi, steel construction for the bridge over Seversky Donets river in Luhansk was produced in short terms.
Besides, the Ocean shipyard repaired tug boats "Ochakiv", "Izmailets" and "Zyuid", ALICE dry-cargo carrier, "Rion" dredger as well as burges were built by the Dutch company Eurobulk order.