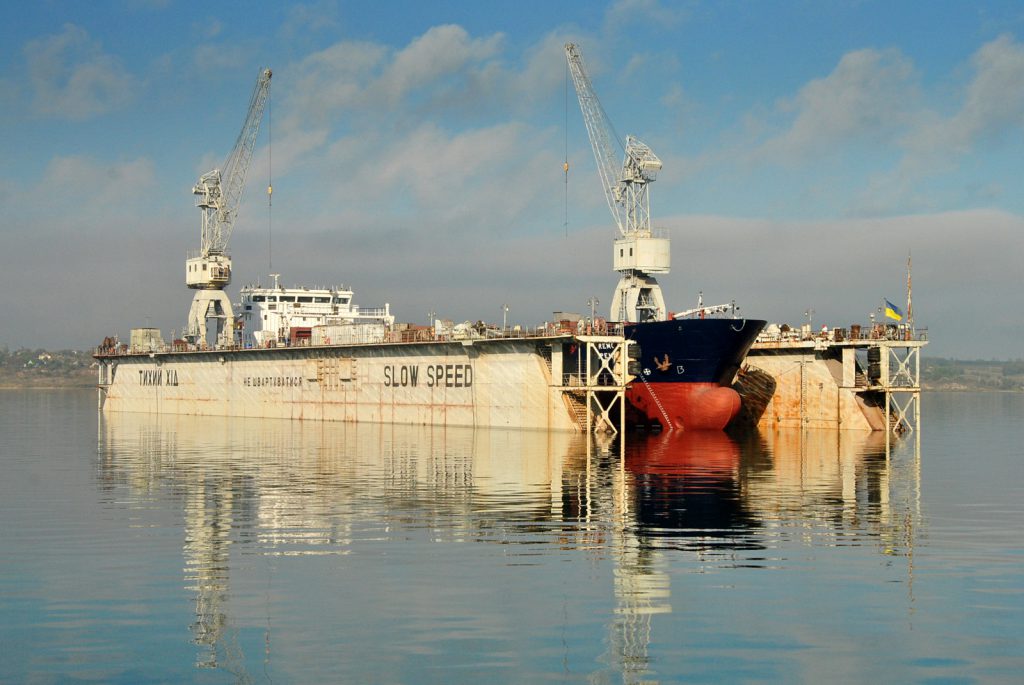 Friday October 23, dry-cargo vessel DREMORA 3, Caspian Express type – was dowsed, which had full modernization on the ship repair yard on demand of the Turkish shipowner.
The aim of Turkish customer was extension of cargo capacity without technical characteristics' loss.
Ukrainian ship repair yard was chosen by several factors. First of all, the conversion of such type of dry cargo carriers on the Ocean shipyard has advanced technological process: instead of 6 sections, ship repair men used 2 enlarged blocks.
Thanks to powerful cranes and transport equipment, technological process is performed significantly faster. Less quantity of details allow to improve quality of assembly.
Upon that, technological optimization allows to reduce the cost of these works for the customer in comparison with other ship repair enterprises. It is these advantages of the shipyard Ocean that played a crucial role for the Turkish shipowner in contractor's choice.
As the result of conversion, the cargo capacity increased by 1339 tons (from 3429 to 4768t, under water draft 4.5m). The length of the vessel increased from 90 to 114 meters. The total weight of the insertion along with hatch caps is 304 tons.
Service characteristics of the vessel were also improved.
As the chief technologist of the yard Mr. Symutenkov mentioned, the vessel not only saved all its project advantages (outsize cargo shipment) but the general cargo transportation net cost was reduced as the result of modernization.
Overall total of holds increased by 2381 cubic meters, and the holds' form with smooth walls makes them convenient for cargo placement without additional operating costs during the loading.
With the increase of length to vessel's width ratio, the team of professionals managed to maintain the same characteristics of speed and fuel consumption of the main engines originally installed.
The technological solutions proposed by the technologists of the Ocean shipyard allow Turkish shipowner to increase the cost effectiveness of transportation by 30%, which allows significantly increase the revenue and recoup investment during the first year of operation.
Receiving the modernized vessel, representatives of the Turkish party noted that modernization in Nikolaev took only 140 days, while at the Turkish and European shipyards this process would last not less than 260 days.
Characteristics of the vessel DREMORA 3. 003RSD04 / ALB03 after modernization:
Length, m – 114.20
Width, m – 15.60
Board height, m – 6.80
Container capacity, TEU – 191
Volume of ballast tanks, cubic meters – 2370